Active Listening
Web Information Visualization (2005)
Overview
Since computer art started around the 1960s, many new media artworks have been created and exhibited worldwide. There are many informative websites and blogs which offer new media art works and exhibition information, but the information is scattered. To check all exhibition schedules, a user has to visit many websites. Currently there is no visualization tool which collectively displays this specific field of information.
The goal of this project is to develop an effective visualization tool for displaying and interacting with international new media exhibition information that is online.
Objectives
To gather scattered information about new media art works and shows
To see contemporary media art sorted according to a country, a genre and an artist
To pursue user friendly interface.
Interface
Main Page
This interface was created concentrating on simplicity, ease of use, and visual directness. The primary colors used reflect this design philosophy.
Menu

Data Input
When users press the Submit button, the Write button will show up next to the Submit button. After filling out the form and pressing the Submit button, the data will be sent to the MySQL database.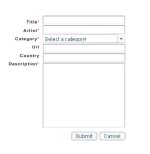 Visualization
This visualization is based on the result of searching by country. Each small circle represents one work or show presented in the typed country name. In this visualization, veins symbolize intimate relationships between works and shows. When users click each circle, a detailed description will be displayed on the left side of screen.