Aurora: Bridging Hemispheres
Proposal for CODE Live 2010
December 2009

Synopsis
Aurora is an interactive environmental installation made out of huge plastic and blowed up by fans. A projection screen creates interactive Aurora (Northern Lights and Southern Lights) images depending on participants hand gestures and movements in front of the inflatable structure. Through their movements, they can create various shapes or colors of Aurora on the big inflatable structure. Playing with Aurora, the participants consciousness is reoriented back towards that of untainted, lucid childhood.
The outside feature of Aurora looks like a lump of huge cloud. The blue cast cloud with blue fluorescent light can give people feeling of softness, bulkiness, and comfort like same feeling as real clouds without any interaction between a computer and people. With Aurora, audience may enjoy visual and audio elements while physically playing with and in a huge inflated plastic cloud.
This project will be created re-visioning Sky Reverie, an interactive immersive installation created in 2004.
Olympics unite people from all around the world. Aurora enhances the Canadian context by focusing on the Northern Lights and Southern Lights, and therefore unites Olympic-goers in a different way. This project enriches participants experience emphasizing on the spectacular aspects of nature that are specifically in far northern and southern climates. Aurora will explore how we experience technology and Art bridging two hemispheres.
Background
From my childhood, the sky was so compelling object to me because I have dreamed of lying down on the clouds and drawing of stars on the night sky with my wishes. I remember those dreaming times are the only time to escape from the reality. Korea is very high-educated country. My parent like any Korean parents also wanted me to learn about various things from Math to Ballet, from English to Science. Only time to see the sky gave me relaxing time. I had enjoyed reverie with.
Moreover people have wanted to reach to the sky since ancient times, however this was impossible dream. The sky was sacred and holy to human. In many myths, the sacred figures come from the sky and generally people have always wanted to fly to the sky. When it didn't rain for a long time and they had damage on the produce, people had a ritual ceremony toward the sky to have rain. Moreover when it was a deluge, they also prayed to the sky. According to the historical records for Korea's Dynasty Joseon, in the 31st years of King Sejong(1449), they had a great ritual for rain because it didn't rain for a long time. After that, they received rain. Like this, there are many other human efforts towards the sky.
People also have some experience from their childhood, when they tried to reach to the sky. Fairy tales also indirectly show that children and many people imagine and admire the sky very much.
The sky is very closed to people but it never responds to our any actions. I wanted to hear and see the response of the sky, and feel it. Human-computer interaction theory in the context of physical environments which has made my idea come to life, was researched by Myron Krueger, in 1970's, who was among the first artists to explore the computer as a central component in interactive art. Krueger's work brought my idea to life.
Content
1. Environment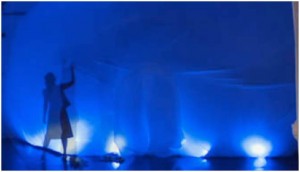 In Aurora, an outside huge cloud presents an Interactive Environment. Fluorescent blue inflatable object gives people very soft, bulky, and comfortable mood.
2. Interactions
Interaction with projected screen


Cloud surface will be the medium that connects sensor (Infrared camera) and hands' gesture. Depending on people's movement or the shape of the creature they made, they get different shapes or colors of Aurora. Interactive northern and southern lights make this work more immersive and interactive.
3. Audio
In Aurora, interactive sounds will be produced depending on participants' movement.
Technical Informtion
Aurora mainly keeps technical requirements of Sky Reverie except floor sensors and interactive LEDs.
Length of Piece : Flexible length (this is an interactive piece.)
Dimensions of the Installation : 20 ft. * 20 ft.
Technical Requirement
Computer 2 Macintosh Computers
Camera 2 IR Cameras to track position of audience
Speakers 4 Speakers for interactive sound/music
Projector 2 Projectors, 2000 lumens minimum
Fans Two Fans to inflate and keep the shape
Lights Blue Fluorescent light bulbs
Inflatable Plastic Material
Software C++
Reference
Images from Sky Reverie : Please visit this link. (http://www.skyreverie.com/photo.html)
Video of Sky Reverie : Please visit here. (http://www.skyreverie.com/video.html)