Intertwinings
Selected Proposal for Surrey Public Art (2010)
Collaboration with Diane Gromala
A Luminous Public Art Installation on the SkyTrain structure on Peterson Hill, Surrey (with Diane Gromala)
Submitted for Necklace Project in Surrey
Proposal Download
Project Overview
Intertwinings is a luminous public art installation that will be installed on the SkyTrain structure on Peterson Hill in Surrey. Intertwinings is inspired by ivy and related plants that cling to on trees, cliffs, rocks, and walls, sometimes climbing to 100 feet above the ground. In Europe, North America, and Asia, it is widely cultivated for its familiarity among generations within homes, its embrace of public buildings, the cooling shade it offers, and its capacity of filtering and purifying the air we breathe. We want to create a public artwork that creates a close relationship with the community and the city environment reflecting living organisms: ivies that help human lives and environments.
The SkyTrain is the most popular commuter system in Vancouver. While the form of its train vehicles and some of train stations are very nicely designed, its concrete guideways and pillars, looming over the smaller scale of humans, often make a dry and cold atmosphere and push people back by it's own design. Therefore, we enthusiastically propose an art piece for this environment. The installation site for Intertwinings is a very clean and quiet area known as Whalley. With the expected growth in population expected in the coming years, Whalley is currently a bit under-developed and still dominated by automobile traffic. This site looks disconnected from the community. We propose a public artwork that we suggest may, in its own way, help humanize this environment, helping to create an atmosphere more friendly to pedestrians and bicyclists.
Intertwinings integrates two aspects: physical interaction and virtual interaction. Physical interaction implies direct and indirect relations between the art piece and the community around the site. Virtual interactions are less obvious. Embedded motion sensors capture movements created by pedestrians, bicycles, and vehicles [cause] and create various light patterns of Intertwinings at night [effect]. Illuminated projects often don't look good or recede from visibility during daytime. We directly address this issue in the way we conceived of Intertwinings by emphasizing artistic and sculptural qualities that shimmer during the daytime. The anodized aluminum leaves of Intertwinings will create natural wavy and reflecting patterns, enlivened by breezes and making visible the interplays of wind and daylight.
Furthermore, Intertwinings will be inviting community to create healthier and playful energy through virtual interaction. Intertwinings' website will be accessible by the world. Its changing visualization of data collected from motion sensors attached to the piece, may be particularly interesting to interactive artists, technologists, and anyone who is interested in patterns of human movement in urban spaces. This website will also work as a research tool for studies of the effects of public art in Surrey. In the long-term, this research may prove beneficial to the city of Surrey in planning and funding future public art commissions.
In the future, Intertwinings can be extended to more columns, keeping the framework of network. Through interplay between physical and virtual worlds, enlivening SkyTrain's concrete mass, and persisting but continuously changing according to temperature and human activity, we expect that Intertwinings will establish a sense of curiosity, interest and pride, and thus may play a role in building a stronger sense of community among its inhabitants.
Design Overview
Intertwinings will be installed on three fixed posts, covering the top of each post and pier. It consists of reflective anodized aluminum leaves attached to an aircraft cable grid. The leaves will create natural shimmers of light, reflections and movements by wind during daytime. The structure and composition of the intertwining leaves work on the differing scales of pedestrian and bicycle traffic, and from drivers of moving cars during all times of the day. Because the aluminum leaves are anodized and slightly matte, we describe the way light is reflected from them as more of an ambient shimmer rather than fully reflective glitter that may be otherwise be distracting to drivers. At night, 60 small longlasting lights (LEDs) embedded in each leaf will create slowly changing colors and light patterns, depending on what sensors of temperature and changing motions of pedestrians, cyclists and drivers. Three posts have a sequential design that creates continuous aesthetic qualities from any direction.




The collected data will be sent to a local server installed on site. Through a wireless network, analyzed data will be stored in a database and used for data visualization.
Lighting
The light pattern will initially set a color by a temperature sensor and will be continuously (but slowly) created driven by the information gathered by motion sensors on Intertwinings.
Technical Details
This project consists of physical and virtual interface: Illumination art installation and a website, which will be maintained by SFU's School of Interactive Arts & Technology (SIAT).
Intertwinings: Installation
Intertwinings' light pattern will initially set a color by a temperature sensor the colder it is outside, the cooler or bluer the color. The light patterns will be continuously but slowly created, driven by the information or data gathered by four motion sensors installed on each side of each fixed column. Motion sensors detect pedestrians walking around or near the project, as well as bicyclists. This data is sent to a microcontroller circuit, which processes it and then sends signals to the LED lights. The LEDs in Intertwinings have capacity of creating a wide range of colors. To avoid any potential confusion with existing traffic lights, Intertwinings will not activate red and green lights. Each LED will illuminate the concave surface of the leaf it is attached to, creating engaging reflections on the shaped aluminum. This will not interfere with drivers or adjacent residents illumination from the numerous LEDs, enhanced by the aluminum leaves, is closer to a bright Christmas tree than to a neon sign. In addition, the leaves create more of a shimmering, distributed glow, and the slow rate of change of the lights is fast enough to be discernable by pedestrians or those stuck in traffic, but slow enough not to distract for drivers.
Intertwinings: Web
Data collected from three columns will be sent to a local server installed on the second column. Through a wireless Internet connection, the data is then analyzed and transmitted to and stored in a database, to be subsequently used for data visualization.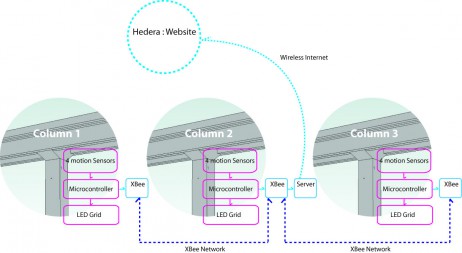 Maintenance Anticipated
The maintenance of the project will be fall into three categories: physical installation, electronics, and a network aspect. The installation requires minimal maintenance as the aluminum leaves will be anodized, and therefore quite resistant to rust or chemical interactions by pollutants. In addition, Intertwinings is designed so that it is not reachable by pedestrians and not easily vandalized.
The electronic circuits will be stored in an airtight compartment on the top of each column and electrical wires, which come insulated, will be additionally protected by water- and temperature-proof materials. Typical lifetimes for LEDs are 50,000 to 100,000 hours, or an average of ten years at 24 hours per day. The network component is wirelessly operated and will automatically send reports if there is an error in the system.
Site
This project is designed for the Site #1, the SkyTrain structure between the 122 Ave. and 132nd Street intersection. Three fixed pillars will be used to install the project. We originally planed to install our project between 132nd Street intersection and University Drive for better visibility and accessibility. However, we needed to choose a site near an existing power source. If extra funds can be drawn to this project, the location of the site can be reconsidered.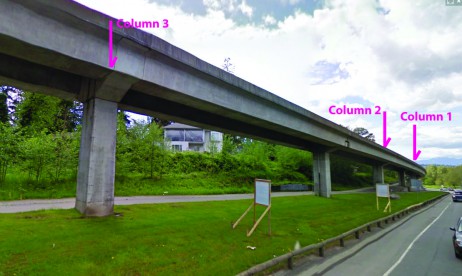 Public Art Research
Public Art has been considered to prevent or reduce crime, to help effect positive change in community-building and in the case of the Lincoln Center in New York, to enhance the economy. A growing number of researchers, municipalities have contributed to this research, supported by government grants. Since the city of Surrey has been a strong supporter of public art throughout the city for the last 10 years, and since we are artists who are trained to conduct research in collaboration with ethnographers and sociologists, we also point out an opportunity: to investigate the effect of public art. This may be accomplished by examining specific artworks, and may in turn help with external evaluations of the city's public art program.
Intertwinings implies very strong potentials of public art research because it will be placed in an area not fully developed, one that is multiply accessed by vehicles, bicycles, and pedestrians. It will be a great opportunity to see how or to what degree the art affects the community and creates relationships. This could create a long-term research environment, a collaboration between SFU and the city of Surrey. In the short term, by visualizing the data gathered from the community (walking and bicycle patterns), we may build a database useful for many potential artistic, academic, social, cultural, and urban usages.
The artistic team, Diane Gromala (Artist, Professor, Canada Research Chair) and Jinsil Seo (Artist, PhD Candidate) offer a combined 40 years of artistic and research experience. Specifically, Professor Diane Gromala's and Jinsil Seo's common research interests explore light, nature, aesthetics of interaction and the social aspects of art for the common good, in terms of public art and art for enhancing health and well-being. Even though this aspect of our proposal research requires a long period of time beyond the installation period, the artistic team is committed to contributing to the city of Surrey, since this is where they and their students work and live.
Prototype
Material Exploration